iFlyMobi enables you to easily build mobile websites in just a matter of minutes.
Here are a few of the key things that you can do with our mobile website builder:
iFlyMobi makes it possible for businesses of all sizes to generate mobile-optimized websites. You do not need to hire a designer or have any HTML knowledge. You simply:
Upload a Logo
Create Pages
Enter Text
Setup Your Links
Add Videos, Pictures, Forms, and more!
And then iFlyMobi does the rest! In just a few minutes, you can start publicizing your mobile-friendly site to the world.
iFlyMobi makes it possible for you to create mobile-optimized profile cards that allow people to connect with you through the channel that they prefer. This may include:
Social Media Sites: Facebook, Twitter, LinkedIn
Company Website
Text-Messages
Phone Calls
Photo-Sharing Apps: Flickr, YFrog
Online Video: YouTube, Vimeo
and more…
More than ever before, consumers and prospects choose how they prefer to interact with companies and their employees. iFlyMobi allows you to make that possible for them!
iFlyMobi enables you to easily create forms that can be included on your mobile websites. These forms might be used for:
'Contact Us' Inquiries
Lead Generation Efforts
Surveys
Event Registration
And more…
When setting up a Form within iFlyMobi, you can choose to ask for various contact fields (such as Name, Email, Phone, Company, Address, etc.), as well as various types of questions (single choice, multiple-choice, open-ended, etc.)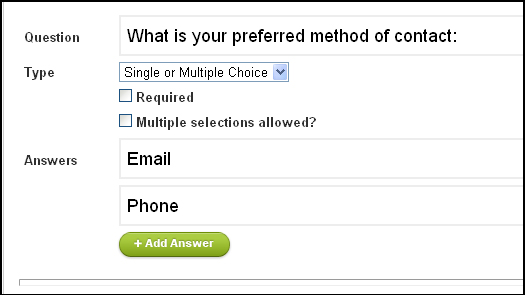 iFlyMobi enables you to easily set up profile pages for your Products and integrate "Buy Now" buttons! Here are some of the key features includes in this solution:
Create mobile pages for products, events, and more!
Provide a secure, express Checkout option
Easily integrate with PayPal
Connect to other online stores, including Amazon and Walmart
And more…
Once you build your mobile-optimized site, iFlyMobi will automatically generate a QR Code to direct people there. You can download the code, and then add it your printed collateral — business cards, brochures, flyers, and more.
As soon as someone scans the QR Code, they will be instantly directed to a site that is optimized for their phone.
Wondering what a QR Code Is?
QR Codes are 2-dimensional barcodes that enable people to jump from printed content to the web with their smart phones.
With just a couple of clicks, you can easily add Maps to your mobile website that will instantly provide directions to your audience.
Simply position where you'd like the Map to be placed, and then input the address. That's it!
Real-Time Reporting
iFlyMobi enables users to view real-time reports via charts and other statistics as to the activity on their mobile-optimized sites. You will have access to:
How many people are viewing your pages
Spikes across hours, days, and months
If your QR Codes are driving traffic
Also, users can easily incorporate Google Analytics tracking code to monitor their mobile website traffic.
Click-to-Call
One of the primary things that someone might want to after looking at your mobile website is to place a call to your business! With our iFlyMobi application, you can easily set up "Click-to-Call" links on your mobile web pages. These actions can be triggered both through text links and image buttons.
Learn How to Create a Click to Call Link
Social Network Sharing
More and more, people are using their mobile phones to access social networks such as Twitter and Facebook. iFlyMobi makes it easy for them to share content on your mobile website with their contacts on those social networking sites!
While you can add your own links to direct people to your corporate social networks, the iFlyMobi application automatically includes a "Share This" button on each page that encourages website visitors to share your content with others from their mobile phone.
Automatic Mobile Detection and Redirect from Standard Websites
We provide code that you can add to your existing, standard-size website to automatically redirect people to the mobile website.
This code will check to see if the user is viewing the site on a mobile device — such as a smartphone or tablet. If so, it will instantly redirect them to the mobile website that you've built with iFlyMobi.
Learn More
Define Friendly URLs
As long as it's available, you can enter the friendly alias for your mobile-optimized website. By including your company name or product name in the URL, this may help you to maintain corporate branding.
We are excited to announce that we offer a White Label Program for our iFlyMobi application. This is designed to help service providers, agencies, and others utilize our services and offer additional value to their clients.
If you have a Blog or an RSS feed on your normal desktop website, you can integrate that content inside of the mobile websites that you build with iFlyMobi. Our application will import your data into the mobile website and ensure that the content is optimized for mobile-viewing.
Image Cropping On-the-Fly
iFlyMobi makes it easy for you crop your images once you've uploaded them to the site. This applies to the logo/banner on your websites, as well as profile pictures that you may upload for your cards.